Trampolining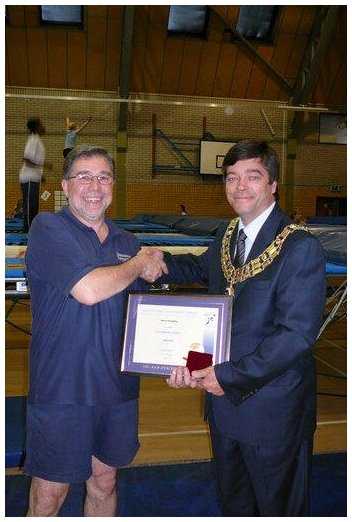 As a British Gymnastics' qualified Senior Club Coach (Level 4) I have been working with performers of all ages from beginners to National grade C for nearly 20 years.  Working primarily with Brentwood Trampoline Club I am available at other times for activities such as:
Specialist training in schools either regular or occasional (I have been CRB checked through British Gymnastics & Essex County Council);
After school clubs;
Safety advice for home trampolines.
Specialist training
Sports teachers are highly-skilled in many sports but there are times when specialist coaching might be required. This could either be for particularly-gifted students whose skills have gone beyond the bounds of the teachers trampoline award, or as support in a general lesson.  In either case I would be pleased to meet with you and discuss how I can help your school.
After School Clubs
With recent legislation putting ever more demands on schools to provide extra-curricular activities, trampolining would be likely to prove a popular activity.  Rather than putting ever more stress on sports teachers who will undoubtedly bear the brunt of this why not call in a specialist coach to develop the activity in your school? BodyAndGear can provide your school that kind of specialist coach.
Home trampolines
Recent years have seen a huge growth in trampolining at home – and also in accidents arising from that activity.  How safe is your garden trampoline, how safely is it being used?  Brentwood Trampoline Club offer regular pay-as-you-go sessions on Sundays where you can learn the basics in a safe environment – alternatively, if you would prefer a home visit give me a call or fill in the enquiry form.